This fellow was pretty okay with me coming close. The fact that I had the 70-300VR from Nikkor surely helped. :)
The White-throated Kingfisher, Halcyon smyrnensis, also known as the White-breasted Kingfisher or Smyrna Kingfisher, is a tree kingfisher which is widely distributed in south Asia from Turkey east to the Philippines. This kingfisher is essentially resident over much of its range, apart from seasonal movements.
This is a large kingfisher, 28 cm in length. The adult has a bright blue back, wings and tail. Its head, shoulders, flanks and lower belly are chestnut, and the throat and breast are white.
Classic images.. check the description above... bang on target . . .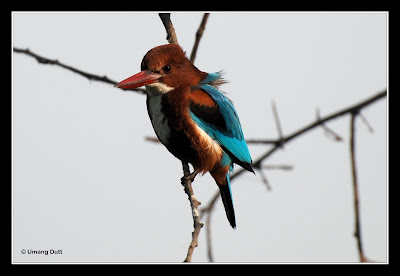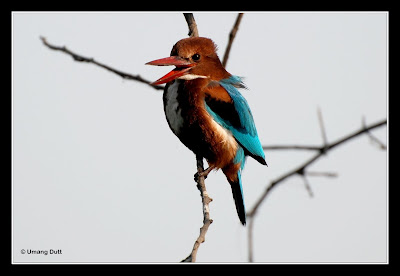 The kingfisher doing its thing. Look hard enough and you will see the fish in its beak. Its a pity the background was so distracting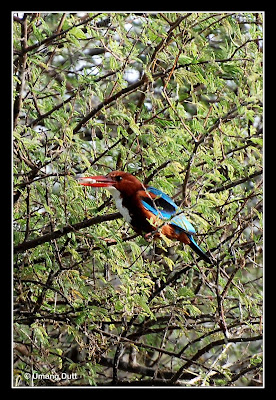 On the lookout for more fish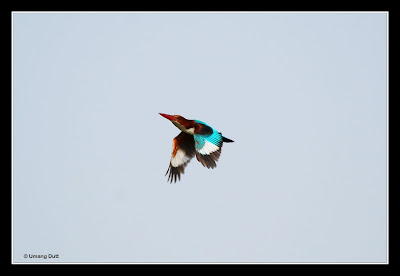 The flight of the White-throated Kingfisher is rapid and direct, the short rounded wings whirring. The large bill and legs are bright red.
In flight, large white patches are visible on the blue and black wings. Sexes are similar, but juveniles are a duller version of the adult. The call of this noisy kingfisher is a chuckling chake-ake-ake-ake-ake.
White-throated Kingfisher is a common species of a variety of habitats with some trees, and its range is expanding. It perches conspicuously on wires or other exposed perches within its territory, and is a frequent sight in south Asia. This species mainly hunts large insects, rodents, snakes, fish and frogs. It is reputed to eat tired migratory passerine birds like Chiffchaffs where the opportunity arises.
White-throated Kingfisher has a striking display in which the wings are spread to show the white patches. The nest is a 50cm tunnel in an earth bank. A single clutch of 4-7 round white eggs is typical.